Where to go in Greece
For all intents and purposes Greece is divided into 8 major regions(the north mainland can be subdivided but most people do not explore that area).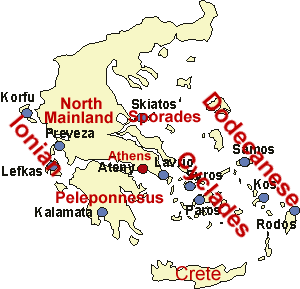 1. Athens- is centrally located in the center of Greece and is the major hub for transportation to all other parts of Greece. For the most part you can get from Athens to almost any other place in Greece relatively easily. The major international airport is located about an hour outside of Athens so most international flights(especially from the US) land at Eleftherias Venezelos Airport. Most Greek domestic flights from Athens take approx. 1 hour to reach their destination.

2. Cylclades Islands- Santorini and Mykonos are the best known of these but there are a lot of lesser known islands in this group that are well work visiting. Ferries and High Speed to this islands take from 2-10 hours to get to. The islands run in a Northwest to Southeast direction and are to the east of Athens.
3. Peleponnesus- The Peleponnesus are the Southern Mainland beginning at Corinth(approx. 1 hour from Athens). The main towns are Napflion, Sparta, Patras(where the ferries to and from Italy land), Tripoli and Kalamati. The main historical sites are Epidauvros Theatre, Olympia(site of the ancient Olympics), Mycaene, Monemvasia, Napflion and Mystra. It's a great area to visit as it is generally less expensive and less touristy than many other parts of Greece. This is a great area to explore by car!
4. Nothern Mainland- I'm using a lot of editorial freedom here, but for the most part it stretches from Athens up to the borders of Albania in the west and Turkey in the east. The largest city is Thessaloniki in the north and some of the more well known sites are Delphi, Meteora, Marathon and Mount Athos. Like the Peleponnesus this is a great area to rent a car and explore.
5. Dodecanese Islands- These islands are to the east and just off the coast of Turkey. In many places you can see the coast of Turkey only a few miles away. Some of the major Islands are Rhodes, Lesvos, Samos and Patmos. You can fly to many of these islands or take the ferries which can take up to 18 hours to get to(although the high speed ferries should cut that down quite abit as long as there aren't a lot of stops on the way!).
6.Crete- Crete is the largest island in Greece stretching about 200 miles from east to west. The main cities are Chania, Heraklion and Aghias Nicolaos. Points of interest are the ancient palace of Knossos, the scenic Samarian Gorge, The Valley of the 10,000 Windmills and the local pottery producers. Flights to Chania and Heraklion from Athens take about an hour and the ferry about 12 hours(less for the high speed). You can also get to Crete from Kythera(island south of the Peleponnesus) Santorini and Rhodes, but the schedules are somewhat erratic.
7. Ionian Islands- The Ionian Islands are to the northwest of Athens and include Corfu and Kefalonia. You can fly, take a ferry from Patras or take land transportation to various ports in the northwest and then catch a ferry. These islands are a little more difficult to get to from Athens but do have direct flights from some European cities.
8. Sporades Islands- North of Athens, these islands include Skiathos, Skopelos, Skiros and Skopelos. You can fly direct from Athens to Skiathos, but the flights are often full so it can be difficult to get a flight during the tourist season. You can take land transport to Volos and then catch a ferry to any of the Sporades islands....